Rohit Sharma has been one of India's best batsman in the recent past. Along with Virat Kohli, Rohit has taken the onus upon himself to do the job for the team in the limited-overs format. Known as 'Hitman' in Indian cricket, Rohit owns a host of cricket records to his name.
Rohit's journey in international cricket can be easily categorized into two halves. Before being promoted to open for India in the Champions Trophy 2013, Rohit faced a lot of backlash for not performing to his fullest. However, ever since 2013, the Mumbaikar re-discovered in creating an identity of his own as possibly one of the all-time greats in ODI cricket.
While he has broken many records in his 13 years at the international cricket, we take a look at some of his most talked-about cricket records.
Here's a list of records held by Rohit Sharma in his playing career for India:
1 – In January 2020, Rohit became the fastest player to 7000 ODI runs as an opener. It took him 137 innings to claim the landmark going past Hashim Amla's previous best of 147 innings as an opener. Even Sachin Tendulkar took 160 innings to score 7000 runs in ODIs as an opener.
1 – In 2019, Rohit became the first player to register twin centuries on his Test debut as an opener. He scored 176 in the first innings while backing it up with a brilliant 127 in the second innings of the Vizag Test match against South Africa.
3 – Rohit holds the record for most double hundreds in ODI cricket. No other batsman has more than one double century while Rohit has achieved the feat thrice in his career. He scored 209 vs Australia in 2013, 264 vs SL in 2014, and 208 vs SL in 2017.
4 – Rohit has scored most centuries in T20Is by a batsman. The 33-year old has scored four T20I centuries in his playing career for India.
5 – The Indian opener even holds the prestigious record for scoring most hundreds in a World Cup edition. He scored five centuries in the 2019 World Cup and played a vital role in taking India through to the semis.
7 – In 2019, Sharma scored seven centuries against seven different opponents in ODIs. Thus becoming, the only cricketer to register seven hundred against different oppositions in a calendar year.
8 – Rohit also holds the record for most 150s scored in ODI cricket. The Indian vice-captain has crossed 150 run-mark eight times in his ODI career for India.
17 – Rohit has secured most Man of the Match awards in IPL history for an Indian player. The Mumbai Indians captain has bagged 17 awards, most for an Indian player along with MS Dhoni.
19 – Rohit has scored most ODI centuries as an opener among Indian batsmen. He has gone past the three-figure mark on 19 occasions while opening the batting for India in ODIs.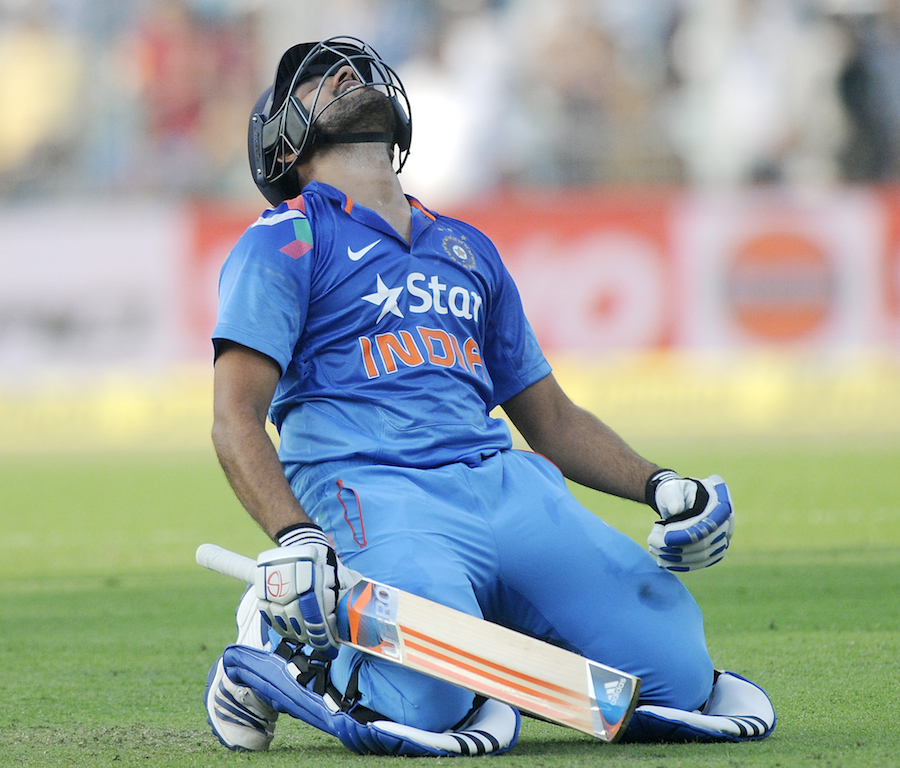 264  – Rohit Sharma holds the records for the highest individual score in ODIs. He scored 264 runs off just 173 balls against Sri Lanka in an ODI at Eden Gardens in 2014. The innings comprised of 33 boundaries and 9 sixes.
423 – Rohit has hit most sixes in career for any Indian player. Rohit has been a six-hitting spree since the 2015 World Cup. He has managed to hit 423 sixes in his international career.
Also Read  Most International Sixes since 2015 | Highest Individual score in ODI cricket